Did You Inherit A House That You Need To Sell?
If you're handling the sale of a property which belongs to the estate of someone recently deceased, you may well find yourself bewildered and frustrated by the complicated probate and estate settlement process. We have the CPRES certification and received our training through US Probate Services, an organization dedicated to helping people through what can be one of the most stressful transactions they're likely to face.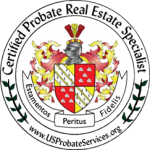 How We Can Help You Sell Your Inherited House
A Step-By-Step Guide
1. Secure the decedent's property and get information about the decedent's assets
The property should be secured until someone is authorized by the Clerk of Superior Court to handle the estate. A basic inventory of the decedent's property should be created using his or her personal records, files and mail.
2. Get in touch with the Clerk of Superior Court in whichever county the decedent is a resident in.
The executor should give the will, if the decedent had one, to the Clerk of Superior Court. If they didn't have a will, the surviving spouse or any other heir needs to contact the Clerk so that they may be appointed as administrator. In order to apply to be the personal representative (executor/administrator) of the estate, you have to have a preliminary inventory of the decedent's known assets and the value of each of those assets. The Clerk of Superior Court will then appoint a personal representative (executor/administrator) by issuing the necessary documents. It will be either "Letters Testamentary", which appoint an executor for a testate estate or "Letters of Administration," which appoint an administrator for an intestate estate.
3. Talk about the possibility of abbreviated estate settlement
It depends on the value of the estates assets and the people who are going to benefit from the estate, but an abbreviated estate settlement process could be available. There are three types of abbreviated estate administration; Collection of Property by Affidavit, Administration by Clerk, and Summary Administration.
4. Gain control over the decedent's property
Go to the decedent's financial institutions and show them your clerk-issued documentation that appoints you as the personal representative. Then collect anything that is owed to the decedent. This includes interest payments, dividend payments, and rental income. Also collect and preserve the decedent's property. This includes the decedent's home, household items, and accounts that will be part of the probate assets. Finally, get an Employer Identification Number (EIN) from the IRS and open a deposit account titled in the name of the estate.
5. Publish notice to decedent's creditors
This is basically an advertisement tells the creditors of the decedent's death and asks them to make their claims against the estate. The notice must state a deadline by which the creditors have to submit their claims. This deadline must be at least 3 months in the future. For certain creditors you might have to send them a letter individually.
6. See whether a year's allowance needs to be paid
The surviving spouse and the surviving minor children of the decedent are automatically entitled to a year's allowance that is paid out of the estate's probate property. The surviving spouse or someone acting on the child's behalf must apply using the "Application and Assignment Year's Allowance".  Note that because the year's allowances are priority claims, they have to be paid prior to distributing money to any heirs or devisees or paying the estate's debts.
7. File a 90 day inventory
File a detailed inventory of the decedent's property within 90 days from the date of your appointment as personal representative. Once you are appointed as personal representative of the estate, you have to file a detailed inventory of the decedent's property within 90 days. It needs to include the estimated value of each item, which might require an appraisal from a professional.
8. Pay off the decedent's debts
You have to pay off the debts according to a specific order found in the N.C. General Statutes. To pay these debts, use the decedent's assets. You may need to use the decedent's real property or non-probate assets to pay off these debts. If that is the case you have to acquire the right to those assets by petitioning to the Clerk of Superior Court.
9. Whatever is left over gets distributed to the heirs or devisees
After all the debts/claims have been paid, the remaining money needs to be distributed in accordance to the will. Of course, if there is no will, you have to distribute the property according to state law. It is smart to keep all receipts just in case.
10. Take care of the decedent's taxes and accounting
The personal representative is responsible for filing the estate tax return and the decedent's individual tax return. This can be complicated so you may need to meet with a tax professional. If the estate takes longer than a year, you need to do provide the Clerk of Superior Court with annual accounting.
11. Close the estate
The Clerk of Superior Court will ask for a final accounting before he or she closes the estate. This will include a detailed list of all estate transactions along with copies of receipts, statements, and checks. Once the clerk is satisfied, you will be relieved of your responsibility as personal representative and you're done.
Need To

Sell Your Inherited House

Fast?
Get An Immediate Cash Offer Today.
Submit your property details below, and a member of our team will reach out to you with your offer in as little as 24 hours.
See What Our Sellers Have To Say
Jon is professional, efficient, highly knowledgeable, and easy to work with. He made our home look incredible for the listing and got us top dollar! Got us a fair price on the home we purchased. Excellent, no nonsense negotiator. You just won't do better than Jon Hines.
- Sarah Wilson
We were extremely pleased with Jon Hines selling our home. We had moved out of state then put our home on the market and in Jon's care. Through the entire selling process, he was there to guide us and answer all questions and concerns. We had a contract in one month. We highly recommend Jon Hines  as a listing or buyers agent.
- Diana Harris
If you are looking for a partner in selling your home, Jon is the person you are looking for. Jon did all the heavy lifting and made the sale of our home fast and easy! He guided us through each step of the sale, and truly surpassed our expectations.
- Curtis Campbell
Jon is professional, prompt, incredibly knowledgeable, and he always went above and beyond to guide me along the process of selling my home. Not even one month after our initial meeting, Jon listed my townhouse. Within THREE HOURS was under contract!!! Again, I am so grateful to have found him. Jon Hines is a Real Estate Expert!!
Rachel Sayasith
We have loved working with Jon on the sale of our home, which by the way sold in under a week! I have never worked with an agent who was as thorough and detailed as Jon.
- Lora Sadler
HouseMax is not your typical Real Estate Company. We are your local One-Stop Real Estate Shop – Whether you want to quickly Trade-In your House for Cash or List and Sell it for Top Retail Price – We can help you!
Jon Hines
HouseMax
855-927-4MAX
301 McCullough Dr. Suite 400
Charlotte, NC 28262